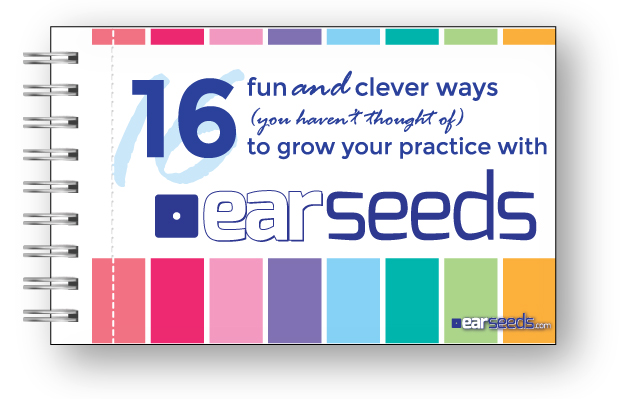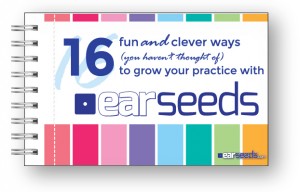 Incorporating Ear seeds into your clinic is a great way to increase revenue and grow your customer or patient base. Our free ebook, "16 Fun and Clever Ways (that you haven't thought of) To Grow Your Practice With Ear Seeds" shares a variety of creative  ways to do that.
CLICK HERE TO DOWNLOAD IT NOW. 
Why? Because we want to help YOU succeed.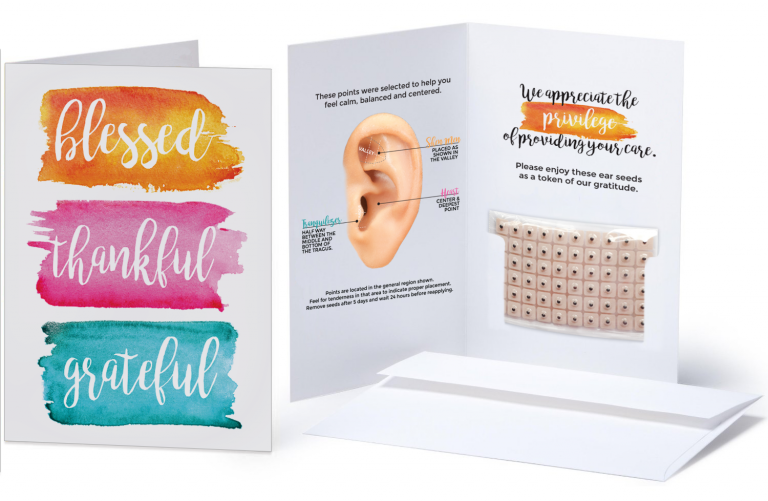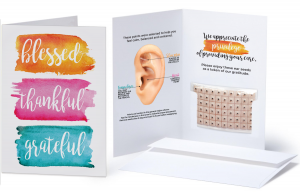 Patient Appreciation Cards – We've created these cards to help you say Thank You to your current patients and they're also a powerful and unique (…also pretty!) way to reach out to patients you haven't seen in a while and reactivate them! Chick here to get them.
Silver Members: $36
Gold Members: $26 (Save 27%!)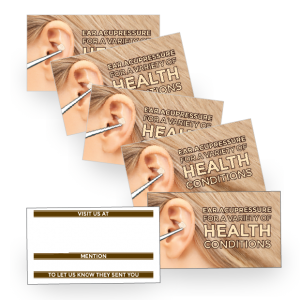 Word-of-Mouth Referral Cards – Enter your clinic info on these cards and have your patients fill their names in on the bottom. When they're out on the town and friends ask about their EarSeeds, they'll be able to hand over the card and direct their friends directly to your front door. You can decide on an appropriate "Thank You" for the referrer! (Also available with Swarovski Crystal Design)
Click HERE to get Vaccaria style.
Click HERE to get Swarovski style.
Silver Members: $5 for 25 cards / $8 for 50 cards / $15 for 100 cards
Gold Members SAVE 50%!: $2.50 for 25 cards / $4 for 50 cards / $7.5 for 100 cards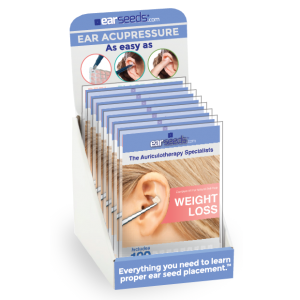 Point-of-Sale Displays – Skip the search for the perfect display stand and let us send one to you! These beautiful countertop displays make reselling EarSeeds kits a breeze. You will receive one as part of your Practitioner Pre-pack or you can purchase one without additional kits but with a variety of other printed marketing materials here.
Silver Members: $10
Gold Members: $6 (Save 40%!)
In addition, on this page, you'll find an assortment of FREE posters and marketing materials designed to help you successfully promote your practice using ear seeds! Simply click on each design below to learn more about how you can incorporate it into your clinic and marketing plan. You'll be able to immediately download a free, print quality (up to 8.5″ x 11″) copy of the posters to frame and display.
If you want larger versions of the posters we've got you covered there too! When you click through, you'll be able to order 18″ x 24″ copies of these posters at discounted prices, on either poster paper or rigid plastic, or even purchase banner stands, depending on your needs and budget.
In addition, we've created other helpful items, including flyers, mailing list templates and labels for your products to help encourage sales!
Have an idea for marketing material that we haven't created? Please let us know! We love doing what we can to support our practitioners and help them grow!