Wholesale
help more people & earn more profits
Become an EarSeeds Wholesaler Today!
Our mission here at EarSeeds.com is to share Auriculotherapy with the world and help practitioners use EarSeeds to grow their practice so they can earn more money and help more people. 
Once approved for an EarSeeds.com wholesale account you'll receive access to EarSeeds products at great wholesale prices with low per-order minimums. 
In addition, you'll get access to a variety of complimentary digital marketing graphics, free downloadable posters, and practitioner-specific products designed to help you integrate EarSeeds into your clinic and practice easily. 
For additional help integrating EarSeeds successfully into your practice, check out EarSeeds Success, where we teach you the exact scripts, mindsets and techniques to build a successful ear seeds practice with ease and confidence. 
Please be sure to check Spam and Junk filters if your email does not arrive. 
Please note: If you are using a @hotmail email address our emails may not get through your spam blockers. Please use a different email address if you can.
ALL NEW UPGRADED WHOLESALE PORTAL
"My patients LOVE the ear seeds. It helps extend the treatment and we're experiencing greater compliance with treatments. My patients dealing with anxiety love the Lavender infused seeds. The orange infused seeds are a great complement to the weight loss seeds."
– Stacey Donelson, L.Ac.

"It is creating a lot of good conversation at the front desk.
I really like them. Patients love it. They can help family at home as adjunct care. They are worth their weight in advertising! Low investment, high gain."
– Michelle Alley, L.Ac.
"My patients love these ear seed kits! Within 2 weeks of the condition specific kits arriving in my practice they were all sold. About 2/3rds of them I sold to specific patients, and the rest were people just walking in the door and grabbing them off the shelf.

With my first order I preemptively bought about 6 refill kits and once the condition specific kits sold, a few of the refill kits sold on their own too!  I had to find the people (whom my colleagues – an LMT and an esthetician) sold them to in order to follow up and get them a chart to be able to use the seeds! Brilliant.

I've always used auriculotherapy in my practice but Elie's charts and kits make it so much easier to communicate value to patients, I feel like I have a fantastic marketing tool, education tool and revenue generating product all in one.  I highly recommend Ear Seed Kits for any alternative medicine practice."
– Rebecca Hurwood, LAc, All Ways Well in Portland, OR
Our product assortments were designed with wellness professionals in mind…
It is in the hands of trained practitioners and on the shelves of wellness studios and clinics that EarSeeds really shine. No matter what type of practice you have, or how you want to share EarSeeds with your community, we've got you covered…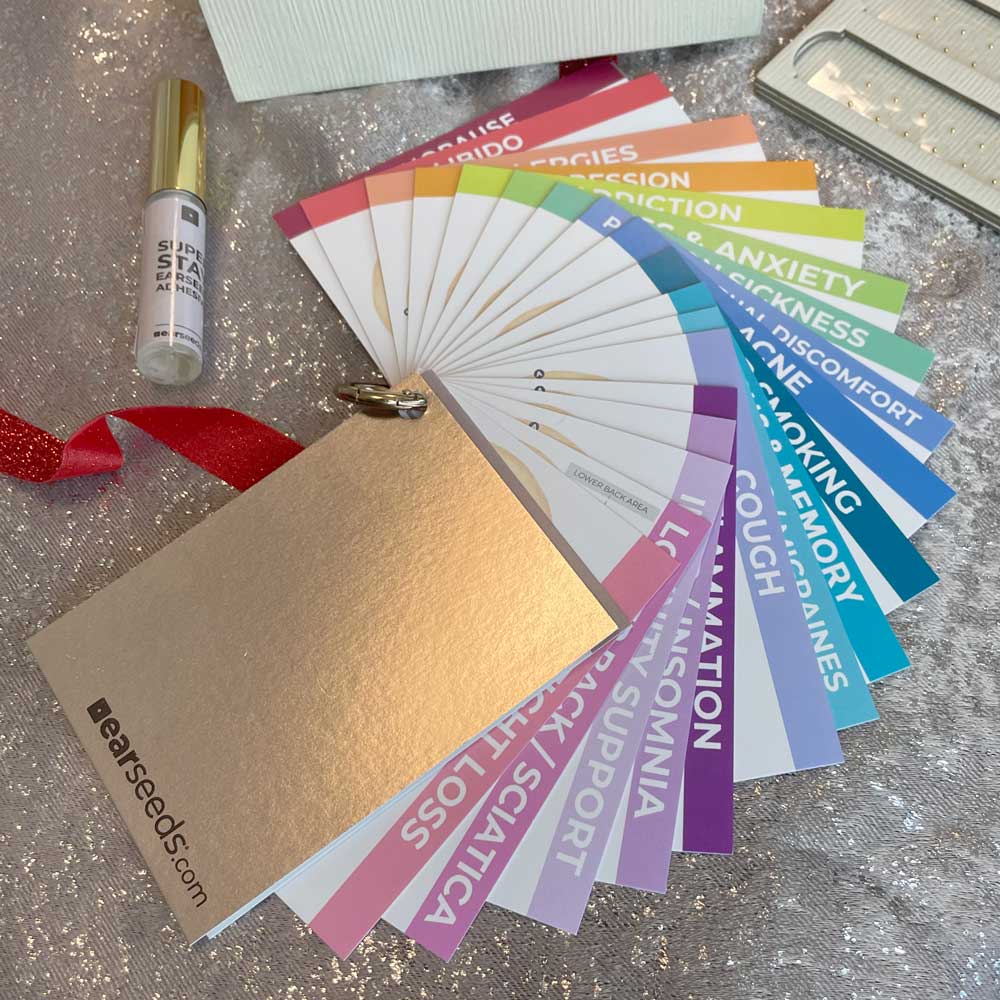 SERVICING
Our Practitioner bundle products are the ideal selection for practitioners who service many clients / patients. With less packaging and lower cost per piece, they're also what you'll stock up on for clinic events or promotional opportunities in your community and the surrounding areas.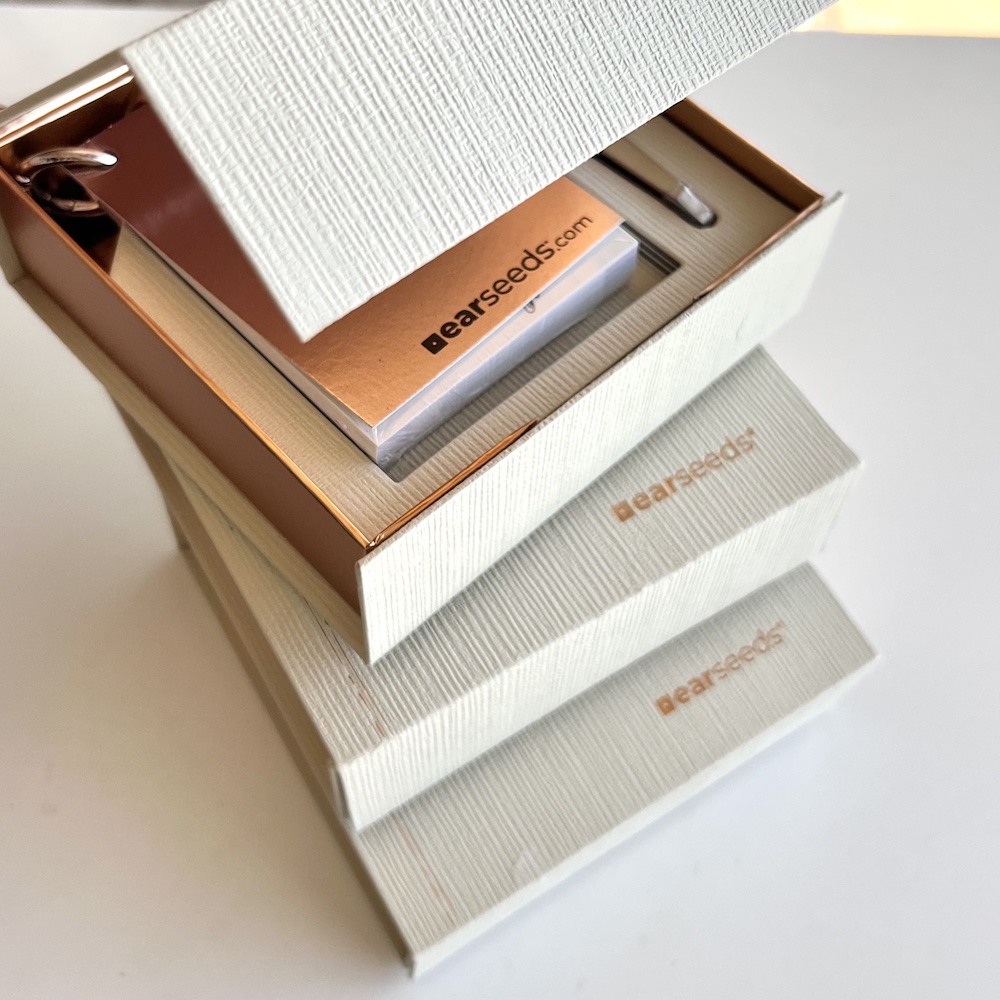 SELLING
Our resellable condition-specific kits are a great complimentary add-on option for clinics with retail space. They're fantastic for self-care between appointments, perfect for gifting to friends and family members, and a valuable revenue generator that will move faster on the shelves of a clinic or wellness center than anywhere else.
What Are Wholesale Minimums?
Wholesale discounts can be applied to carts with a $300+ retail value. There is no per-piece minimum for wholesale orders.
What if I Have Never Used EarSeeds?
Can a Retail Store Apply For a Wholesale Account?
Yes. Retail stores are welcome to apply for wholesale accounts.
Who is Eligible to be Approved For a Wholesale Account?
Wholesalers include a variety of holistic wellness practitioners- everything from Acupuncturists and Massage Therapists, to wellness coaches, doctors, spas and retail shops. You will be required to purchase multiples of most items in order to benefit from wholesale membership. Wholesale applications are manually reviewed for authenticity and appropriateness. If you have a question about whether you qualify for wholesale status please contact us. 
The
 

Importance of Proper Training

When your patients / clients go out into the world wearing EarSeeds you've applied, they are a walking word-of-mouth referral service for your practice or clinic. 

The depth of your knowledge is a testament to your integrity as a wellness practitioner.

It is also an indicator of the results you will be able to obtain with this modality, from both a clinical perspective and a profitability perspective.

To increase your knowledge and gain confidence in charging appropriately for this powerful modality, we strongly recommend our EarSeeds Certification Training Program.