Increase your revenue with a product patients love to buy!
Patients as well as practitioners are LOVING our  Ear Seed kits!
Not a practitioner? Click here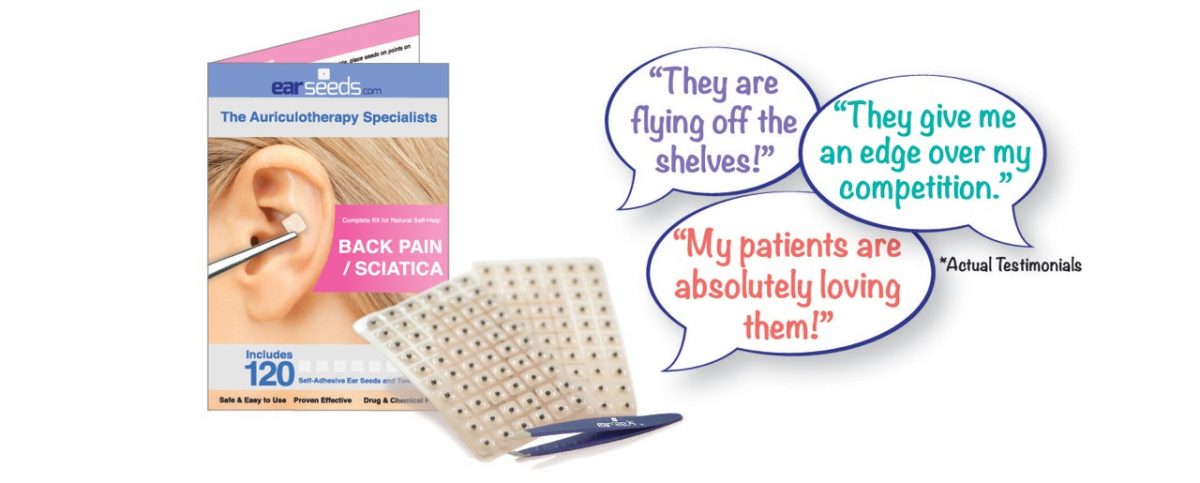 Auriculotherapy dates back thousands of years, but since the 1950's its popularity has been increasing immensely. Matt Damon and Penelope Cruz wear ear seeds and Dr. Oz recently explained its merits on his TV show.
Auriculotherapy with ear seeds is the non-invasive stimulation of specific points on the ear to elicit a therapeutic response elsewhere in the body.
Small black seeds from the vaccaria plant are secured on the ear with a piece of adhesive tape over specific acupressure points. The continuous mild pressure they exert is amplified by stimulating the seed with a few seconds of fingertip massage every few hours.
We have developed unique auriculotherapy self-help kits for a variety of conditions such as stress, weight loss, depression, headaches/migraines, insomnia, anxiety, back pain and stop smoking.
Each kit comes with everything your patient needs to get started including a clearly illustrated graphic + protocol for proper ear seed placement, ear seeds, and a stainless steel tweezer to help remove the ear seeds from its plastic tray.
Practitioner wholesale price is only $8.50 per kit. MSRP is $14.99 so you earn a nice markup. Each kit lasts 4-6 weeks and will help your patients while you bring in extra income.
Click here to fill out a wholesale application
Offering a new product in your clinic will help attract new patients and referrals!
Practitioners are already selling our ear seed kits to their patients!
Many practitioners have already re-ordered just weeks after their initial order! These are an easy sell to your patients who are looking for all natural holistic ways to improve their health.
Your patients will benefit from these ear seed kits and you will increase your revenue!

Apply for a wholesale account today!
Click here to fill out a wholesale application