Marketing Strategies & Products for Practitioners/Therapists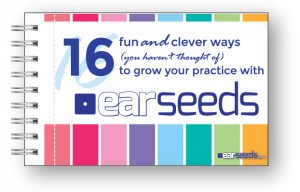 Incorporating Ear seeds into your clinic is a great way to increase revenue and grow your customer or patient base. Our free ebook, "16 Fun and Clever Ways (that you haven't thought of) To Grow Your Practice With Ear Seeds" shares a variety of creative ways, collected from other practitioners – to do that.
Patient Appreciation Cards – We've created these cards to help you say Thank You to your current patients and they're also a powerful and unique (…also pretty!) way to reach out to patients you haven't seen in a while and reactivate them! Chick here to get them.
Silver Members: $36
Gold Members: $26 (Save 27%!)
Word-of-Mouth Referral Cards – Enter your clinic info on these cards and have your patients fill their names in on the bottom. When they're out on the town and friends ask about their EarSeeds, they'll be able to hand over the card and direct their friends directly to your front door. You can decide on an appropriate "Thank You" for the referrer! (Also available with Swarovski Crystal Design)
Click HERE to get Vaccaria style.
Click HERE to get Swarovski style.
Silver Members: $5 for 25 cards / $8 for 50 cards / $15 for 100 cards
Gold Members SAVE 50%!: $2.50 for 25 cards / $4 for 50 cards / $7.5 for 100 cards
NEW!
Inspirational Sticker Packs – A great way to stay on your client's mind! When you're the one who shares these empowering stickers, you're the one they'll think of every time they see it… and with their beautiful designs and empowering messages, they WILL put them in a memorable spot.
.