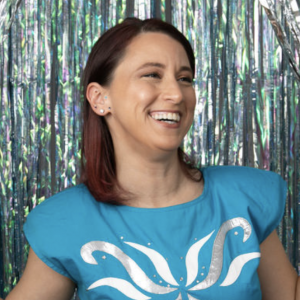 Tova here! Hope your summer is going well!
How do you feel about change? Some people love it- the new beginnings, fresh perspective… and others hate it- getting used to new patterns, the unknowns… it can be really stressful!
Our past few months as a business and family have been filled with a lot of change, and while some of it has been super challenging, and some has been sad, other aspects have been very exciting and new in all the best ways!
Like so many people over the past 18 months this new (somewhat) normal compelled us to make some major shifts in our world, and I wanted to take a minute to share them with you.
When we started EarSeeds from the guest bedroom in our New Jersey home, we never imagined how far this little family business could take us.
All we knew is that if more people had access and knowledge about how to use ear seeds, it could have an incredible impact on the world.
In 2014, with two little kids at home, we found ourselves struggling with our careers. I felt completely emotionally unfulfilled by my 18 year design career in the NYC fashion industry, (I was having panic attacks at work- I'd never had those in my life!) and Elie's 18 year career as an acupuncturist was badly impacted overnight due to shifts in insurance coverage.
After two years of inconsistent and unreliable work for both of us, Elie conceived the idea of offering EarSeeds as an all-in-one educational product.  He'd hurt his back while shoveling snow in our driveway. Ear seeds helped the pain and this business idea was born.
One year into business we realized we no longer belonged in New Jersey. Within three months, we'd packed our bags, sold our home and moved our family across the country to sunny San Diego.
For the last six years we built a life and a business in our new home state…  but times they are a'changing.
Last week, we moved again!
This past October, we looked around and realized, as beautiful – and kind to us – as San Diego had been, it no longer fit.
I missed the electricity of a creative, somewhat over-the-top city. (I grew up in Brooklyn- Old school, gritty Brooklyn! ❤️)
And we were ready to see this business grow- reach more people, weave even further into the mainstream. Where it belongs. 
We read and hear testimonials from people all the time who are being helped so powerfully by these little seeds, we want to give this biz the greatest chance of impacting the most people….
So, by the end of October we'd bought a home and last week we finally moved to Las Vegas! 🌟💃🏻🌟
Las Vegas is a town whose reputation definitely precedes it! 😆
What we've found is a great, family community, a vibrant, creative energy, beautiful mountain views & hiking trails, and a ton of sparkle and glitter (Glitter is my spirit animal.) (Yes- it's hot… but so far, manageable!)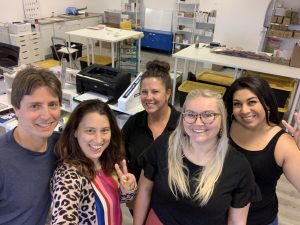 New Team!
We've also found inspiration! And a whole new team! And a beautiful new office!
Have a Q about Ear Seeds, our biz, your biz, our products, your ears? You'll likely be hearing back from Bailee! She just moved to Vegas a week before we did!
Reaching out on Social Media? Gaby will be there to respond and point you in right direction! 
A question about your order, or shipping? Cristina's your girl. (This woman has been managing shipping departments for small businesses her whole career— so much so that she *literally* married the FedEx guy at one of her former jobs… they now have two beautiful girls together💖)
We're still assembling all our products on-site, led by Misty and Vianey. Until we use up our current inventory of packaging, it'll still say San Diego- but after that, it'll transition to saying Vegas, Baby!
I'm not going to say this transition was stress-free, but things are quickly falling into place and the energy and excitement for this new chapter is palpable.
What's Next?
Our goals for this new Chapter? Elie's been working on a ton more educational content! We know you want it- whether you're an EarSeeds newbie or a graduate of the EarSeeds Certification Training Program, there is still SO much to learn about this incredible modality!
I'm working on a very special new product that we're getting ready to launch. Some of you may have caught a glimpse of it on some social platforms but the move delayed it's launch, so STAY TUNED!
There's more… But this email is already too long.
We're so glad you're with us for this ride!!